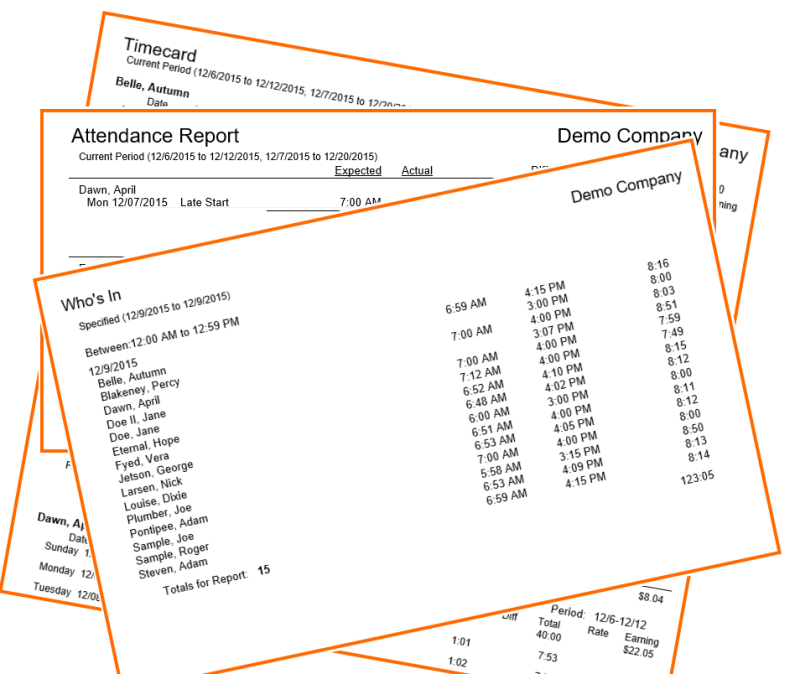 Powerful reporting allows you to access and use your information to improve your business intelligence.  Whether you need to evaluate departmental labor costs, examine overtime trends, control attendance issues or just ensure that operations are on track,
Timekeeper Reporting
gives you the tools you need.
Configure, Save and Reuse
Timekeeper Reports have user configurable properties so that you can target the report to meet specific needs.  Once a report is configured to your liking, you can produce it for any date range, and/or filter group you need.  If this is a report you'll need to use regularly, save it as a favorite so you can reproduce it as often as desired.
Export and E-Mail
Timekeeper Reports can be printed, or, if desired, saved to disk.  When saving to disk, reports can be saved in various formats including PDF, Excel, Excel Data Only, MS Word, Rich Text, Comma Separated Data, and even XML.
Exporting a report as Data can be a strong starting place or valuable supporting data for operational spreadsheets, budget analysis worksheets and business planning and projection calculations.
Export as PDF, Rich Text or other formats and e-mail to interested parties to simplify and clarify communication.
Current or Historical reports can be produced with equal ease, just choose what, when and how.