- Not Yet Available - Product in Development -
Portable Fingerprint Time Clock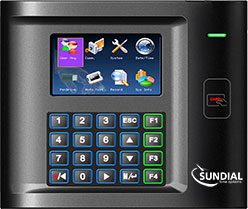 When you need to track time for a workforce that isn't near a time clock, or if you need to monitor tasks from a workforce that is constantly on the move, Sundial's Protable Fingerprint Time Clock is just right. These rugged timekeeping devices are perfect for rough or dirty environments and can track numerous employees, department codes or job codes
Portable off-site time management is easy with this clock which supports Time, Lunch and Break type transactions. Get a price quote.
The Mobility / Portable Fingerprint Time Clock is perfect for mobile workforces such as:
Landscaping Services
Construction Sites
Home Health Care
Farm and Agriculture
Delivery Drivers
...and many more.
Protective rubberized casing with carrying handle and long-life battery pack make this portable fingerprint clock a perfect option for use on job sites and by mobile workforces.
Easy Operation
"Touch and Go" simplicity is perfect for off site workers and crews. Job code support provides extra tracking when you need it.
IP65 rating, USB thumb drive port, ethernet and optional support for WIFI or GPRS means this clock is a great solution in any work environment.